History of Territorial Brewing Company
---
In July 1832, the Lagermeister brothers, Ehrhard (19) and Dankmar (18), arrived in Battle Creek Township in the Michigan Territory from Schweinfurt Bavaria.
They quickly set about bringing a piece of their old home to their new and in January 1833 opened the Erhard und Dankmar Bierbrauerei Kompanie. The business struggled until February when, at the request of a confused passerby, they changed the name to Ernie and Dan's Brewing Company and business began to pick up.
On June 30th, 1834, Ehrhard married Gertrude Territorial, the second oldest daughter of Bensonhurst Territorial, the owner of Benny's Beer, the largest and most successful brewery in Battle Creek.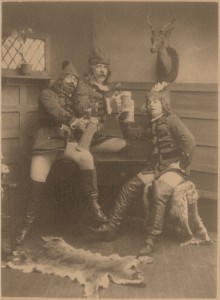 On July 7th of the same year, Dankmar married Gertrude's older sister Maude. One day later, the previously healthy Bensonhurst Territorial died from unknown causes. Having only two daughters, control of Benny's Beer was handed down to the Lagermeister brothers. Ehrhard and Dankmar merged the two breweries and became Ernie and Dan's Brewing Company Presents Benny's Beer.
Due to a shortage in sign lumber, Gertrude and Maude persuaded the brothers to shorten the name and honor their late father, thus Territorial Brewing Company was born.
August 17, 1836, Ehrhard and Gertrude welcomed a son, Horst. One week to the day later, August 24th, Dankmar and Maude were also blessed with a son, Doerk. Horst and Doerk grew up very close.
Tragedy struck on April 1, 1854. While exploring the bottom of Goguac Lake in an improvised two-man diving bell, Ehrhard and Dankmar were overcome by a trout and later succumbed to hypothermia.
After the death of their fathers, Horst and Doerk took over Territorial Brewing Company. Due to their young age, Gertrude and Maude played a large advisory role and for the next 10 years the brewery thrived. On October 15th 1862, Horst and Doerk were wed in a joint ceremony to Amber and Nichole, the twin daughters of Ronwell Von Richten who owned and operated the burgeoning Hastings Wig Pin Corporation. The honeymoon was cut short when the Lagermeister cousins left to fight in the American Civil War, Horst for the Union and Doerk for the Confederacy. Sadly, both cousins were the only two to fall at the now forgotten Battle of Bockwurst Bluff in Saskatchewan, of which they were the only participants.
In February of 1865, with no one left to run Territorial Brewing Company, Amber and Nichole sold the brewery to Robbington Zimmern, the illegitimate son of Tonya Zimmern-Shaponey. Robbington's father was rumored to be either Horst or Doerk Lagermeister but his mother would never reveal this secret and took it to her grave. Robbington, a self-made man, funded his buyout by selling his patent for an effective snail trap. More than 90% of snail traps sold today still have the Zimcon name stamped on the side. His invention is the basis for the now-common turn of phrase "A head like a Zimcon Snail Trap."
Territorial Brewing Company flourished under the leadership of Robbington, expanding its distribution territory as far west as Augusta Creek. Robbington and his wife Charlese, by most accounts a homely and insignificant woman, were blessed with the arrival of twin boys. In an homage to the men he thought might be his father, he named them Hoerk and Dorst. On the 1st of April 1895, during a pheasant hunting trip, Hoerk and Dorst accidentally, tragically and simultaneously bayonetted their father atop Spedunkel Ridge, overlooking the mill pond. Though he was penetrated by just the tip of each bayonet, he died three days later from a brewer's yeast infection. Because of this event, the highway that today passes nearby is known by locals as the Penetrator.